This half term's theme: New Beginnings
Thousands of children in the UK are being supported through Thrive. The Thrive Approach helps to give children and young people the tools to make the most of life's opportunities.
Schools that have introduced Thrive report fewer exclusions, reduced classroom disruption, improved attendance and better educational attainment. Parents that engage with the Thrive Approach, report significant improvements in their relationship with their children as well as improved behaviour. The children themselves say they feel better understood and they get more out of school. They learn to love learning. With the support of Thrive we learn how to help the children to:
feel good about themselves

know that they matter

become more resilient and resourceful

have a positive place in society

form trusting, rewarding relationships

be creative

be compassionate and empathetic

be thoughtful and self-aware

be productive

be able to overcome difficulties and setbacks
As a Thrive school, all children at Upton receive support to help with learning new ways of responding, improving resilience and having a greater ability to engage with life and learning, either via whole class teaching, small group work or one to one sessions. If your child receives either small group or one to one sessions, we will contact you with further information and activities that you can use at home to help support your child.
For further information on The Thrive Approach visit - www.thriveapproach.com
Social & Emotional Aspects of Learning
At Upton, through SEAL and the Thrive Approach, we place a high priority on children's social and emotional learning and development as we know that this has a positive impact on their achievement in other curriculum areas.
The SEAL curriculum is based around half termly topics (see below):
Autumn 1st half: New Beginnings

Autumn 2nd half: Getting on and Falling Out (this also includes a week on 'Say No to Bullying')
Spring 1st half: Going for Goals
Spring 2nd half: Good to Be Me
Summer 1st half: Relationships
Summer 2nd half: Changes
Children receive regular SEAL lessons based on the current topic.
We have a weekly theme which is linked to the half term topic and children who do particularly well in the theme are mentioned in the 'Golden Book'. We would love to hear from you when your child achieves the weekly theme at home as we can celebrate this in school as well!
Just like learning to read, children's learning about SEAL is even better when there is input from home as well as school! Parents can help their children at home with SEAL and we send out a leaflet each half term explaining the theme and how you can help at home. These leaflets are always available in the school office and can be downloaded from our website.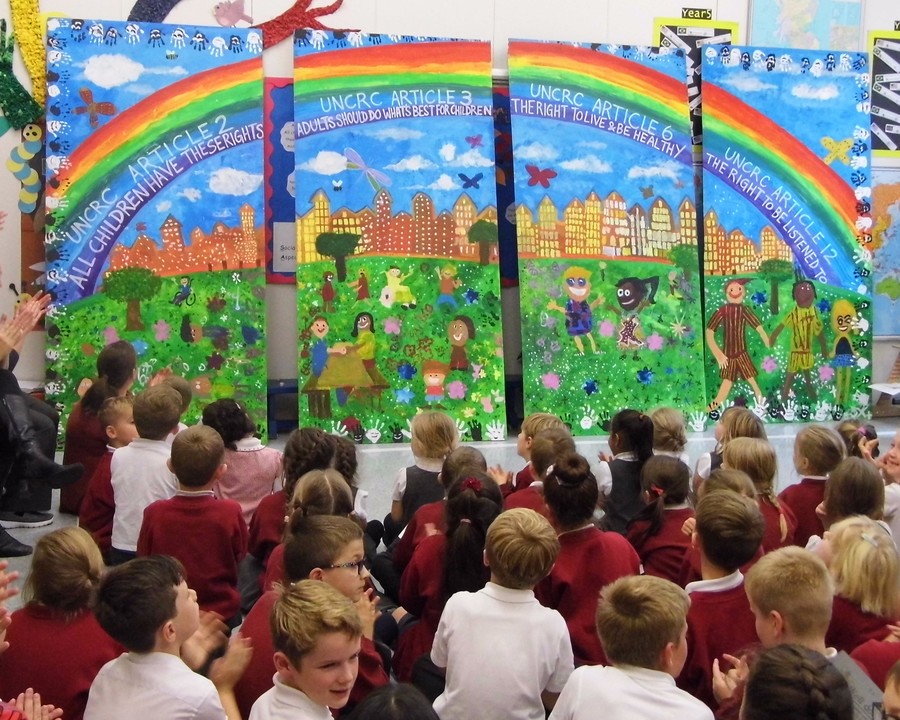 United Nations Convention on the Rights of the Child
Article 29 - Children's education should develop each child's personality, talents and abilities to the fullest. It should encourage children to respect others, human rights and their own and other cultures. It should also help them learn to live peacefully, protect the environment and respect other people. Children have a particular responsibility to respect the rights their parents, and education should aim to develop respect for the values and culture of their parents.