We are proud of all our children's achievements ...
Summer Term 2020: Years 5 and 6 have been designing model Eiffel Towers!
The children also designed persuasive leaflets to sell their models. Who knew that there were so many different ways of marketing a model of the Eiffel Tower?
Summer Term 2020: VE Day Tea Party
Summer Term 2020: National Skipping Day 2020 - 363 skips well done!
Summer Term 2020: PE with Joe and basket ball on 'Fancy Dress Friday'.
Spring Term 2020: Music duo, Boubakiki played for our children the saxophone and handpan. They made the music session interactive and fun.
Spring Term 2020: World Book Day-the children shared their books and donated them to the 'Help a South African School' campaign.
Spring Term 2020: Year 3 and 4 are swimming their best!
Spring Term 2020: Year 5 and 6 have been exploring how to make circuits
Spring Term 2020: Congratulations from the DfE
Autumn Term 2019: Children in Need
We had a fun day dressing in either spots or yellow for Children in Need and the School Council organised a cake sale. We raised a fabulous £232.44; which beat last years amazing total of £213. Thank you for all your support. By respecting the rights of children in the UK we will be making a big difference to their lives. UNCRC Article 27 says "Every child has the right to a standard of living that is good enough to meet their physical, social and mental needs".
Autumn Term 2019: Shoe Box Appeal
Each class filled two shoe boxes, one for a boy and one for a girl. The boxes were given as Christmas presents to children in Moldova, one of the most deprived areas of Europe.
We are proud because this is a little girl looking really happy that she has received a box from us. The picture she is holding was drawn by one of our children. We have made a positive difference in this little girl's life.
Autumn Term 2019: Harvest Festival
We were proud to donate our harvest collection to elderly people living in the school's locality and also to our nominated charity, Torquay Community Larder.
Torquay Community Larder provides emergency food provision to some of the most vulnerable individuals and families experiencing food poverty in Torquay. Please help us to help those in food poverty by donating goods to the schools collection box.
We are the only school in Torquay continually giving support to Torquay Community Larder.
Autumn Term 2019: Adopted an orangutan at Paignton Zoo
The children learned all about the uses of palm oil and how deforestation is affecting the forests in countries such as Indonesia and Malaysia. We raised over £170 by making bags to sell in a bag sale, which we spent on adopting an orangutan from Paignton Zoo. We have adopted Malia for 3 years.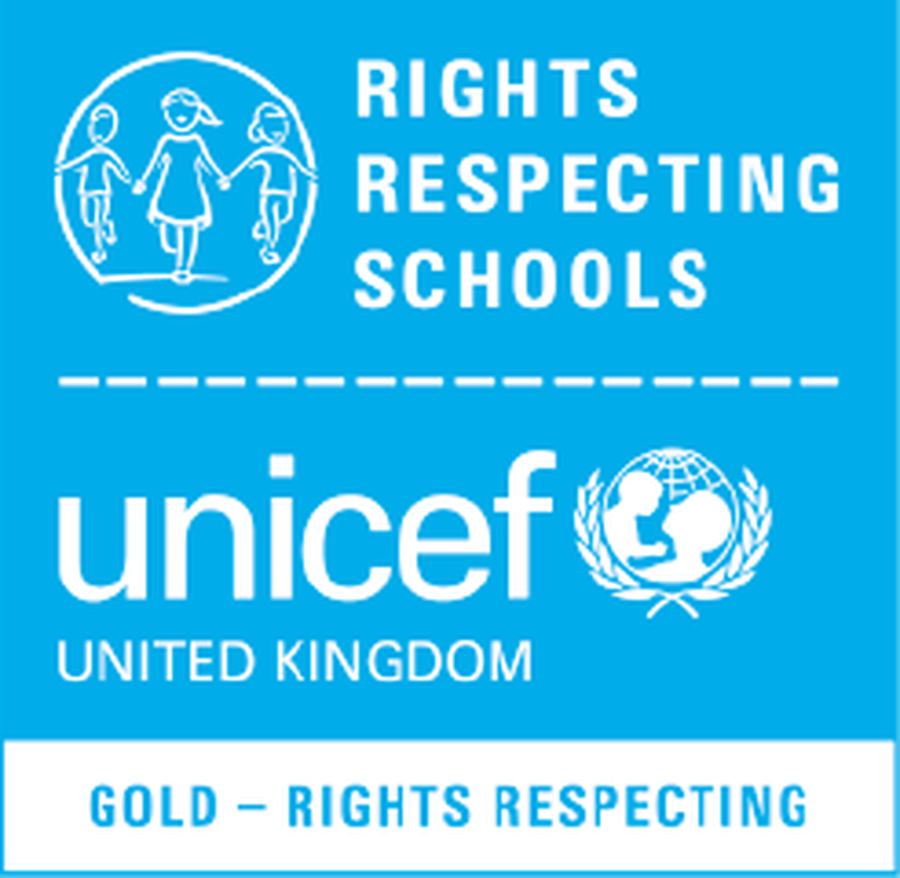 We have received the prestigious Unicef UK Gold Award!
Unicef is the world's leading organisation working for children and their rights. The Rights Respecting Schools Award is granted to schools that show commitment to promoting and realising children's rights and encouraging adults, children and young people to respect the rights of others in school.
Gold is the highest accolade given by Unicef UK and shows a deep and thorough commitment to children's rights at all levels of school life. Although 400 schools across England, Scotland, Northern Ireland and Wales have received Gold, Upton St James is the first school in Devon and Torbay to gain the award!
The Award recognises achievement in putting the United Nations Convention on the Rights of the Child at the heart of a school's planning, policies and practice. A Rights Respecting School is a community where children's rights are learned, taught, practised, respected, protected and promoted.